Apr 28, 2021
Sterling Homes Edmonton Creates Affordability with Evolve Series Homes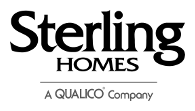 Edmonton, AB – An important part of contributing to building better cities is knowing what is important to our customers, which enables us to build innovative home designs that meet the changing needs of our customers. Sterling Homes in Edmonton is an example of our dedication to knowing what our customers want.
In the fall of 2019, Sterling Homes observed a housing market of barriers, inadequate selection, and an overabundance of homes available for quick possession. It was clear to the team that something had to change to provide home buyers with better choice, and that meant a good hard look at their own model lineup and building processes.
What stood out the most for Sterling Homes was the gaping hole in the market created by the federal government's mortgage stress test. To qualify for a mortgage, buyers must test their affordability against a baseline interest rate, set much higher than the actual rate the buyer will end up paying. This left many first-time home buyers unable to start their path to home ownership.
The team at Sterling decided to go back to the drawing board, crafting a home style that offered not only an affordable entry into home ownership, but also innovated their existing production processes to maximize efficiencies in both cost and time to build. In late 2019, the Evolve Series was created.
"The Evolve Series is a lineup of homes built for affordability without compromise," says Brent Bommes, Vice President, Sterling Homes Edmonton. "We looked at every aspect of innovation for this product, from efficient use of building materials and finishes to the buying experience itself."
The Evolve Series addresses affordability in several ways, starting with the flexibility in buying options. Sterling Homes offers unique ways to purchase through down payment installments and programs designed to assist first-time home buyers.
"We didn't want consumers to feel they were sacrificing for affordability, however," says Bommes. "When we designed this product, we listened to our buyers and included all of their 'needs' and some of their 'wants'. This way they feel they are buying a higher valued home for their purchase price."
In addition to buying options, the Evolve Series was designed to be more efficient throughout the build process. Each home model has been designed to maximize use of building materials and finishes, such as utilizing the standard size of a quartz slab to cut into finished pieces rather than cutting odd sizes and creating waste. Plumbing and HVAC runs were also designed for better efficiency and less waste. Sterling Homes also consulted their active trades in the design process to learn where other efficiencies could be introduced.
To add to new building efficiencies, the Evolve Series also simplified the design selection process for the homeowner. Pre-determined design packages were created using quality, modern finishes, allowing the home buyer to choose what best suits their style. Having these pre-determined packages also allowed Sterling Homes to gain lead time on ordering materials and speed up the building process thereafter.
The initial launch of the Evolve Series was an incredible success, selling all 12 available units in less than 24 hours. Since then, Sterling Homes has paid close attention to the reception in the market and the feedback from buyers, and used the data collected to release the series in other communities, as well as refine and expand their line of homes.
Initially, the Evolve Series consisted of two floor plans with a front attached garage and two floor plans with a rear detached garage: The Allure and the Asset, and the Savvy and Streetwise. All the homes were designed as functional floor plans, maximizing use of space but minimizing costly features. Commonly upgraded features such as 9' ceilings and 36" upper cabinet heights were included as standard in the front drive models, as well as vinyl plank flooring on all models. This not only provided homeowners with the finishes they would expect but created efficiencies in the building process as all homes would offer the same upgrades.
Over the past year, Sterling Homes has expanded the model selection to include eight rear detached garage homes and eight front attached garage homes, two townhomes and two duplex models. This selection creates opportunities for home buyers to find a well-designed home that works for their unique needs while maintaining affordability.
"We've been able to expand this special selection of homes thanks to the detailed information we collect from our buyers and owners," says Bommes. "The Evolve Series is constantly evolving—hence the name—to meet the everchanging needs of a volatile housing market.
"We want to ensure all home buyers have an opportunity to own a quality home within their budget. The Evolve Series has clearly filled a gap in the market to meet those needs."
Publications
Special Publications